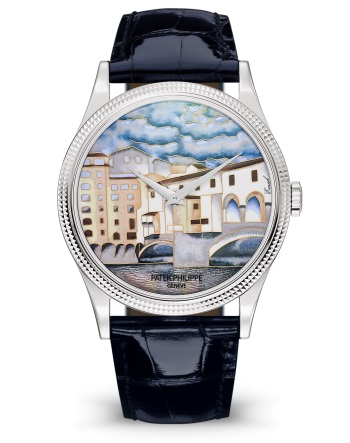 This limited edition unites several time-honored decorative techniques, including Grand Feu cloisonné enamel, to celebrate three legendary Italian sites: "Tuscany", "Cinque Terre" on the Liguria coast and the famous "Ponte Vecchio" in Florence. First, the gold dial was adorned with delicate hand-guilloched patterns. The enameler then traced the outlines of each scene, using from 48 to 62 cm of gold wire measuring 0.1 x 0.4 mm in cross-section, before bringing it to life with opaque, transparent and opalescent enamels in some 30 to 35 colors. In areas such as the water and the fields, the guilloched decoration shines through the color, a style of enameling known as flinqué. Details were refined slowly and meticulously using miniature painting on enamel. Each dial required between 10 and 22 firings at temperatures ranging from 800C° to 820°C. The bezel is adorned with Patek Philippe's emblematic hand-guilloched hobnail pattern. Housed in a white-gold case, the caliber 240 ultra-thin self-winding movement may be admired through the sapphire-crystal back.
Italian scenes. Calatrava wristwatch with dial in cloisonné enamel enriched with miniature painting on enamel over hand-executed guilloché work. إصدار محدود. Grand Feu cloisonné and flinqué enamel. 48-62 cm of gold wire of 0.1 x 0.4 mm. 30-35 transparent, opaque and opalescent enamel colors. 10-22 firings at 800°C to 820°C. Details in miniature painting on enamel. Yellow- or white-gold hand-guilloched dial plate. White-gold Dauphine hands. القطر: ٣٨ مليمتر. الإرتفاع: ٣'٨ ملم. ذهب أبيض. Bezel with hand-guilloched hobnail patterned decoration. ظهر الساعة من كريستال الصفير. Alligator with square scales, hand-stitched, shiny black or shiny navy blue. إبزيم ذو شوكة.
القطر: ٢٧٫٥ مليمتر. الإرتفاع: ٢٫٥٣ مليمتر. الأجزاء: ١٦١. الجسور: ٦. الأحجار: ٢٧. حفظ الطاقة: ٤٨ ساعة حد أدنى. قلب دوار صغير غير مركزى من ذهب عيار ٢٢ قيراط. توازن: جيروماكس®. الاهتزازات/الساعة: ٢١٦٠٠(٣هيرتز). ياى توازن سبيروماكس®. الدمغة: ختم Patek Philippe . براءة اختراع: CH 595 653.