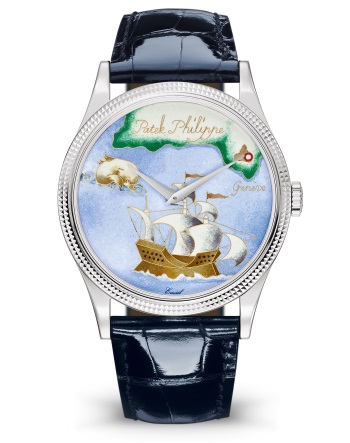 With its three-masted caravel, its sea creature and its island coastline, the decoration on the dial of this limited edition in Grand Feu cloisonné enamel inspired by an old chart of the Caribbean relives the adventures of the Age of Discovery. Tracing the outlines of the vessel and other features required 57 cm of gold wire measuring 0.1 x 0.4 mm in cross-section. Also fashioned in gold wire, the logo Patek Philippe and the place name Genève mischievously blend into this exotic setting. The subtlety of the tints, suggesting an ancient document, called for opaque and semi-opaque enamels in 25 colors and 10 firings at a temperature of 800°C. The bezel is adorned with Patek Philippe's emblematic hand-guilloched hobnail pattern. Housed in a white-gold case, the caliber 240 ultra-thin self-winding movement may be admired through the sapphire-crystal back.
Calatrava wristwatch with cloisonné enamel dial. إصدار محدود. Grand Feu cloisonné enamel. 57 cm of gold wire of 0.1 x 0.4 mm. 25 opaque and semi-opaques enamel colors. 10 firings at 800°C. Logo Patek Philippe and place name Genève made with gold wire. White-gold dial plate. White-gold Dauphine hands. القطر: ٣٨ مليمتر. الإرتفاع: ٣'٨ ملم. ذهب أبيض. Bezel with hand-guilloched hobnail patterned decoration. ظهر الساعة من كريستال الصفير. إبزيم ذو شوكة. Alligator with square scales, hand-stitched, shiny dusk blue.
القطر: ٢٧٫٥ مليمتر. الإرتفاع: ٢٫٥٣ مليمتر. الأجزاء: ١٦١. الجسور: ٦. الأحجار: ٢٧. حفظ الطاقة: ٤٨ ساعة حد أدنى. قلب دوار صغير غير مركزى من ذهب عيار ٢٢ قيراط. ®توازن: جيروماكس. الاهتزازات/الساعة: ٢١٦٠٠(٣هيرتز). ®ياى توازن سبيروماكس. Patek Philippe الدمغة: ختم. براءة اختراع: CH 595 653.