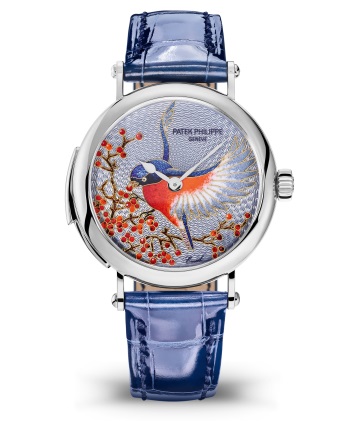 The first minute-repeater wristwatches for women to feature dials in Grand Feu cloisonné enamel, these haute horlogerie models decorated with rare handcrafts depict a bird pecking red berries. First, the white or yellow gold dial plate was hand-guilloched with a fine panier or basket-weave pattern. Next, the enameler outlined the graceful picture of the bird with outspread wings and the branch, using 58 cm of gold wire (0.32 g) measuring 0.07 x 0.4 mm in crosssection. He then brought the scene to life with a palette of transparent, opaque and opalescent enamels in 21 colors. Each dial required 10 firings at a temperature of approximately 750°C. The white or rose gold Calatrava-style case houses the caliber R 27 self-winding movement with minute repeater striking on two gongs. Comprising 342 parts, the movement is visible through a sapphirecrystal case back. The watches also come with an interchangeable back in solid white gold or rose gold.
Bird. Grand Feu cloisonné enamel. 58 cm of gold wire of 0.07 x 0.4 mm (0.32 g). 21 transparent, opaque and opalescent enamel colors. 10 firings at approximately 750°C. White or yellow gold dial plate handguilloched with basket-weave pattern. White- or rose-gold pear-shaped hands. Diameter: 33.9 mm. Height: 10 mm. White gold. Interchangeable full back and sapphire-crystal case back. Alligator with square scales, hand-stitched, shiny dark blue or shiny red ruby. Prong buckle. Ladies' minute-repeater wristwatch with dial in cloisonné enamel over hand-executed guilloché work.
Minute repeater with classic gongs. Diameter: 28 mm. Height: 5.05 mm. Parts: 342. Bridges: 10. Jewels: 39. Power reserve: Min. 43 hours - max. 48 hours. 22K gold off-center mini-rotor. Balance: Gyromax®. Vibrations/hour: 21 600 (3 Hz). Balance spring: Spiromax®. Hallmark: Patek Philippe Seal.