21.03.2018
50th anniversary of the Golden Ellipse
Launched in 1968, the Golden Ellipse has become one of Patek Philippe's most iconic timepieces.
Discover the 50-year history of this cult watch as well as the two timepieces that were specially created for this anniversary: a limited edition model in platinum with an engraved and enameled dial and a new Golden Ellipse Jumbo in rose gold with a black dial.
They pay tribute, in an irresistible way, to a sleek, expressive, and timeless design with balanced proportions based on the golden section.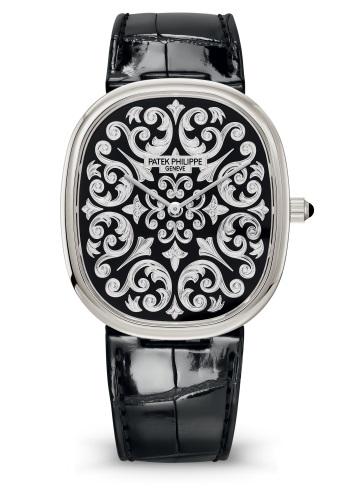 Ref. 5738/50P-001
To celebrate the 50th anniversary of the launch of the legendary Golden Ellipse (1968) Patek Philippe pays tribute to the rare handcrafts in a limited edition of one hundred sets comprising a platinum timepiece and matching cuff links. The stunning dial is faced with a black Grand Feu enamel layer that reveals the volute patterns hand-engraved in the 18K gold dial plate. Its decoratively interlacing volute pattern perfectly matches the unmistakably bold form of the Golden Ellipse – half rectangle, half circle – emphasizing the width-to-length ratio of the famous golden section, the rule that underpins some of mankind's greatest architectural and artistic works. The solid platinum back is engraved with the commemorative inscription "Ellipse d'Or 1968–2018". A black onyx cabochon decorates the crown. White-gold cuff links repeat the Golden Ellipse design and the decor of black enamel and hand-engraved volute pattern.
View the description card