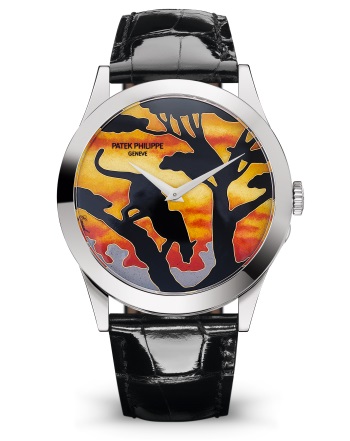 A leopard (also called a panther) in the African savannah at sunset inspired the dial of this limited edition in Grand Feu cloisonné enamel. To shape the outlines of the animal and the trees, depicted in silhouette against the fiery sky, the enameler used 32 cm of gold wire measuring 0.1 x 0.4 mm in cross-section. Capturing the magic of this moment required transparent and opaque enamels in 10 colors. Each dial called for about 10 firings at a temperature of approximately 820ºC. The white-gold case is endowed with a sapphire-crystal back protected by a hinged dust cover, affording a private view of the caliber 240 ultra-thin self-winding movement.
Edición limitada. Grand Feu cloisonné enamel. 32 cm of gold wire of 0.1 x 0.4 mm. 10 transparent and opaque enamel colors. 10 firings at approximately 820°C. White gold dial plate. White-gold Dauphine hands. Diámetro. 38,65 mm. Height: 9 mm. Oro blanco. Sapphire-crystal case back protected by a hand-engraved hinged dust cover. Piel de aligátor con escamas cuadradas, cosida a mano, negra brillante. Hebilla de hebijón.
Diámetro: 27,5 mm. Altura: 2,53 mm. Componentes: 161. Puentes: 6. Rubíes: 27. Reserva de marcha: mín. 48 horas. Micro rotor descentrado de oro de 22 quilates. Volante: Gyromax®. Alternancias/hora: 21.600 (3Hz). Espiral: Spiromax®. Signo distintivo: Sello Patek Philippe. Patente: CH 595 653.